Self-defense for seniors: defensive until old age
The rising age of a high-birth generation and the permanently increasing life expectancy ensure that the average age in Germany is rising rapidly. As a result, there are more and more senior citizens who are known to be an easy target for physical violence. We want to introduce you to the most important figures and methods for prevention and self-defense for seniors.
Figures from the police crime statistics from 2015
This shows a tendency that contradicts the common opinion that senior citizens are more likely to be victims of acts of violence such as theft than our young fellow citizens. In fact, of the 213,576 violent crimes recorded, only 12,289 cases affected victims who were at least 60 years old – according to the police crime statistics for 2015. That makes up around 5.8%.
That sounds very little, but it means that every 17th act of violence is still committed against a pensioner. Although our seniors live relatively safely, this danger cannot be completely ignored, as the number has increased by 23.6% in a ten-year comparison, according to Wolfgang Spies, the deputy state chairman of the North Rhine-Westphalia police union (GdP).
Typical dangerous situations
Many seniors have saved considerable sums of money in their lifetime and this is exactly what the perpetrators are usually after. The violent break-in when nobody is at home is the rarer case here.
Trickery: Mostly attempts are made to deprive seniors of their savings with fraud and false pretenses. The "grandchildren" trick is widespread, as is the phone call as a supposed bank employee, whereby account details are obtained or assets are discovered. Later, the attack takes place in or in front of your own home.
theft: Another dangerous situation is withdrawing money from the bank. The perpetrators try to strike either directly after visiting the bank or on the way home and steal freshly withdrawn money.
Fraud / robbery: Visiting the front door under a false pretext is not always easy, but it poses a great danger. Here the perpetrator tries to convince the elderly that he has to go into the apartment, or he simply rushes in as soon as possible the door opens.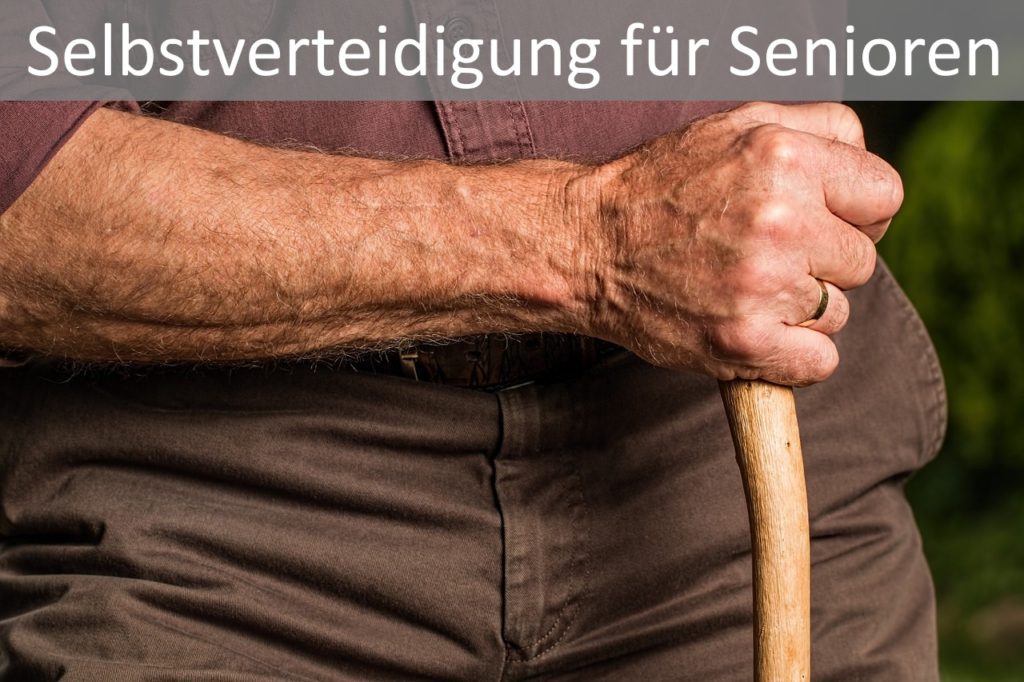 Prevention – self-protection for seniors
The following tips are aimed primarily at seniors, but of course apply to all age groups.
There is a very valuable protection against telephone fraud or grandchildren's trick: Do not give out any information on the phone and inculcate this on your grandmothers and grandfathers too, who have no internet and cannot get this information themselves. If you want something, you should write a letter. At least grandma and grandpa know that from before.
First and foremost, it is recommended against any raids Of course, to avoid dangerous situations and not be alone with lots of cash or valuables. Furthermore, the assets should not be stored in one place on the bookshelf or even in your wallet, but rather be distributed. Part at home, part in the account, part in securities. This ensures that the perpetrator does not get everything in one go.
Going to the bank should if possible in company a person of trust. If that is not possible, you should refrain from wearing expensive necklaces, bracelets or watches. These are signs that signal thieves that something is up for grabs here. We also advise against withdrawing several thousand euros so that the detour to the bank does not have to be made as often.
Either one helps against unwanted home visits Peepholeso that the door can remain completely closed until you see the visitor, or a security device against opening it by force. The well-known door chain works in principle, but may not withstand a powerful intruder. For a little more money, you can also purchase newer, even more stable solutions.
Self-defense course for seniors
Does it make sense to teach the basics of self-defense to seniors? We cannot give you a general answer to this question. It all depends on the physical condition of the elderly. A certain amount of physical strength should already be available, since every form of physical resistance requires effort. But there is also the psychological factor and it brings fitness, in our opinion sufficient arguments for a resounding yes! However, not all martial arts are suitable.
Find out in our martial arts comparison which martial arts is suitable for seniors!
The courses show seniors a few ways in which they can defend themselves with little effort. As long as you are still able to move around properly and take care of yourself, these courses can be quite helpful. You have to differentiate between a 65 year old, former bank employee and an 85 year old, former construction worker with Parkinson's. The bank clerk might still be able to join a martial arts club and the construction worker might already have a care level. Age and constitution therefore already play a central role.
Self-protection for seniors through weapons
Especially when their own body is weakening, many people tend to want to restore their defenselessness with aids. Self-defense weapons can certainly be of help here, but they also represent a danger in the legal sense as well as for self-protection. Especially in the case of physical inferiority, the risk of being attacked with the weapon by disarming increases. You can find out more about the various weapons and the legal situation for their use here.
Read our large self-defense weapon comparison for more information
Conclusion: stay defensive!
The most important first thing: Everyone should defend themselves if they get into an inappropriate situation, and they can do that too! Of course you need a little preparation so that you don't go into shock and just endure everything in an emergency … And it is not always advisable to risk the confrontation instead of being robbed, but to remain physically unharmed – it is depends on the situation. However, in some situations, self-defense is the last option and when it needs to be used it should be done effectively.
Also read our self-defense tips
Of course, physical fitness limits you, but basic knowledge of a martial art is not wrong. Together with a self-defense weapon, these can be an effective defense.